Welcome to the Lodge Laxford No 1380 Website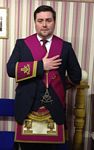 By Right Worshipful Master Bro Shaun Stephenson
On behalf of the brethren of Lodge Laxford No 1380 , I extend a warm, fraternal welcome to all visitors to our website, whether a Mason or not.
I hope you will find this site interesting and informative, whether you are interested in Freemasony generally, or wish to join our Lodge as a member of the Scottish Constitution or from another Masonic Constitution.
One of our aims is to maintain and enhance the excellent social life which has developed at Lodge Laxford by organising events at which both Masons and non-Masons are welcome.
Lodge Laxford hold events where we can raise money for our Lodge Charities and other non Masonic charities as well as enjoying the company of Family and friends.
A further aim, is to include an element of Masonic education (not research) into each of our meetings thus contributing to a general advancement of Masonic knowledge.
We have drawn our membership from far and wide and, if you wish to join us as either a member or a guest, you will be made very welcome.
Sincere and Fraternal Greetings
Bro. Shaun Stephenson R.W.M. Lodge Laxford No 1380